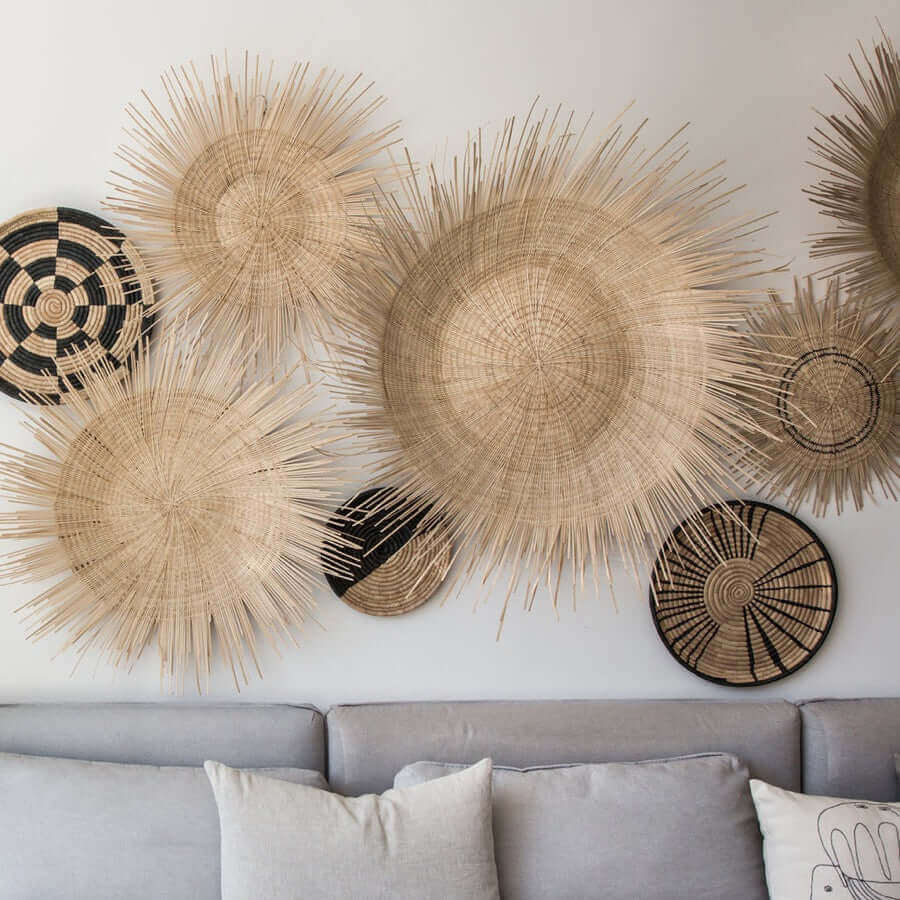 Posted on
---
When it comes to decorating your home, you want to create a space that reflects your personality and style. One way to do that is by choosing unique wall decorations. While traditional paintings and photos are always a classic, adding unique pieces to your walls can elevate the look of your home and create a one-of-a-kind atmosphere. Just by adding that one special piece of wall decor you can make your whole interior stand out.
Now why would you choose unique wall decorations over the 'safe' option of trend decor that you see in many homes? I would say the biggest benefit is that it adds a personal touch to your home. Whether you opt for natural sun plates, a mirror wall, or handcrafted masks, these pieces will not only serve as a conversation starter, but also showcase your individuality and respect for unique pieces with a story. By choosing something that you love, you'll create a space that feels truly like home and helps you feel comfortable and happy in your personal zone.
Another advantage of unique wall decorations is that they create visual interest. A dull and uninspired wall can make a room feel flat, while an eye-catching piece of art or decoration can draw the eye and make a statement. When you buy from Mayala Home, you can proudly tell the story behind the pieces, which makes the decor even more interesting. The story behind the pieces makes you dream away of far away, exotic places. By choosing your pieces well, you can also add texture and depth to your walls, making them look more interesting and appealing.
Finally, unique wall decorations are often more sustainable than traditional options. Our unique wall decorations are made by hand, using natural materials like wood, rattan, and jute. These pieces are more eco-friendly, and by choosing them, you'll be supporting the environment as well as the local artisans who created them. Additionally, many of these pieces are timeless, meaning you can enjoy them for years to come and not have to worry about them going out of style!
In conclusion, choosing unique wall decorations is a great way to add a personal touch to your home, create visual interest, and support sustainability and local artisans. Whether you opt for natural wall art, fairtrade masks, or a mirror or basket wall, these pieces will elevate the look of your home and create a space that is truly one-of-a-kind. Also, when it comes to unique pieces, you don't need many of them, since they can stand out very well by themselves. So, don't be afraid to think outside the box and choose something that speaks to you when it comes to decorating your walls!
Quick links
Contact us
Burgemeester Sandbergstraat 17
2013 BR Haarlem, NL
info@mayala-home.com
+31 6 8199 2120
Mayala Home is a webshop. Pick-up is available by appointment. We are also represented at the Swan Market Store in Leiden and Utrecht.
Sign up to our mailing list