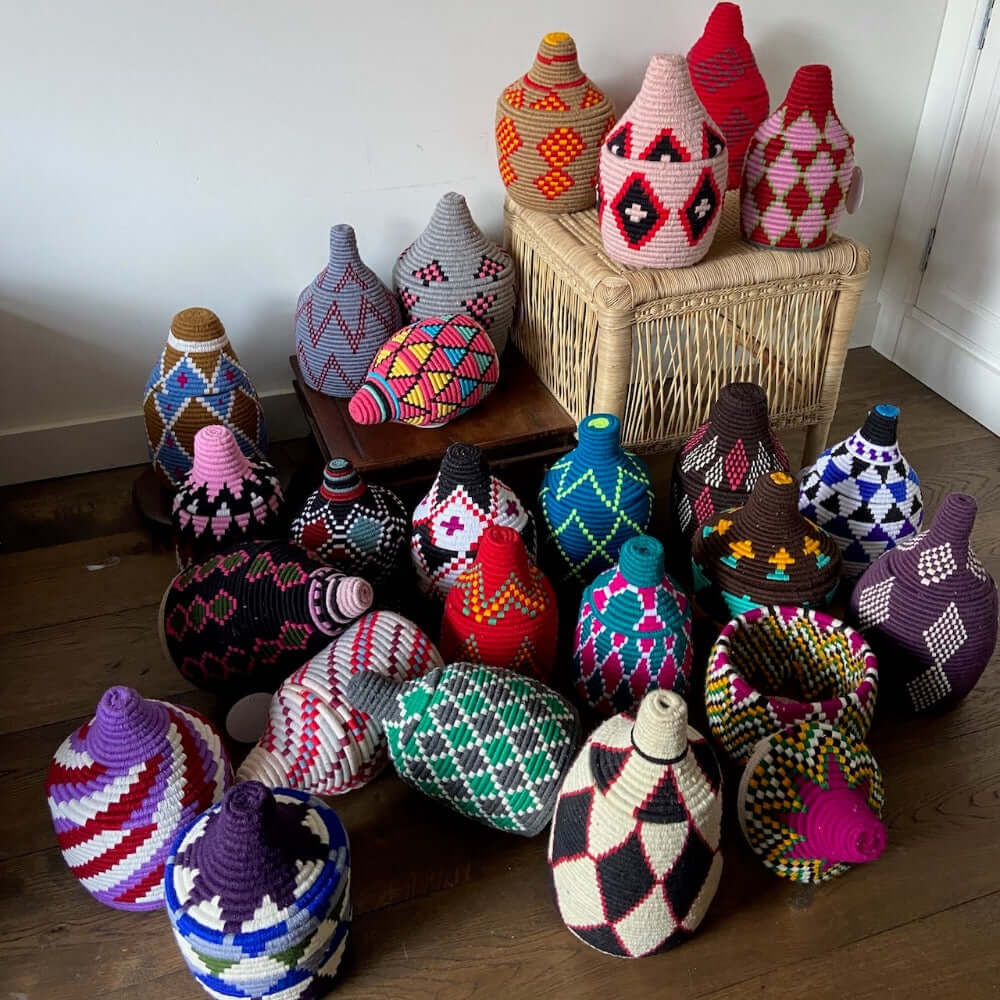 Posted on
---
The making of Berber baskets is a traditional craft that has been passed down from generation to generation among the indigenous Berber people of North Africa, particularly in Morocco and Tunesia. These baskets are handwoven using natural materials such as palm leaves, grasses, wool and reeds. In this blog post, we will explore the process of making Berber baskets and their significance in Berber culture.
The Making of Berber Baskets
The process of making Berber baskets starts with collecting natural materials from the local environment. The most common materials used are palm leaves, grasses, reeds and wool. The leaves are then carefully selected and cleaned before being braided into intricate patterns, usually by the men in the family. The process of weaving requires a great deal of skill and patience. The weaver must carefully manipulate the leaves to create the desired shape and pattern of the basket. The making of one small basket therefore takes a couple of days.
Once the basket has been woven, the women decorate the basket with colourful designs or symbols that are significant to Berber culture. For this, they use thick needles and leftover pieces of wool. All baskets are unique. Berber tribes in the south of Morocco decorate more expressively than the traditional Arabic style, and more colourfully. This style is characterised by tribal shapes, geometric patterns, linear stripes and an explosive use of colour combinations. Since we love this style, most of Mayala Home's berber baskets originate from the South of Morocco.
Significance of Berber Baskets
Berber baskets have a long history and are an important part of Berber culture. They are used for a variety of purposes, including carrying goods, storing food (like flatbreads and rice), and also as decorative items. In Berber culture, baskets are often given as gifts during weddings or other important ceremonies. They are also used in traditional dances and other cultural events.
These baskets are also gorgeous plant pots, ideal storage for bathroom accessories, decorative eyecatchers, a place to put small items like keys.. They are not just decorative but also multi-functional, one-of-a-kind pieces.
The intricate designs and patterns on Berber baskets are significant because they often have symbolic meanings. For example, some patterns may represent fertility, while others may represent protection or good luck. The use of natural materials also has spiritual significance, as it represents a connection to the earth and the environment.
The Artisans behind the Berber Baskets
As with many artisanal processes, the baskets are made in the artisans house, as an integral part of home work and the family. They are often sold at traditional markets by local artisans who have been practicing the craft for generations. Many of these artisans work in cooperatives that promote traditional crafts and provide a sustainable source of income for local communities. Mayala Home makes sure the artisans get a fair price for their pieces, so this beautiful, traditional craft will live on.
Conclusion
The making of Berber baskets is an important part of Berber culture and has been passed down for generations. The intricate patterns and designs on these baskets have symbolic meanings and represent a connection to the environment. The different colour combinations also make each basket unique. Purchasing these baskets supports local artisans and promotes sustainable economic development.
So.. make sure to check out Mayala Home's collection of colourful Berber Baskets!
Quick links
Contact us
Burgemeester Sandbergstraat 17
2013 BR Haarlem, NL
info@mayala-home.com
+31 6 8199 2120
Mayala Home is a webshop. Pick-up is available by appointment. We are also represented at the Swan Market Store in Leiden and Utrecht.
Sign up to our mailing list